1
To install FSK-Lab 2.0 to KNIME 4.x open KNIME. The FSK-Lab 2.0 extension is available in a so-called update-site. Add the following update site via the Help > Install New Software > Add button in KNIME.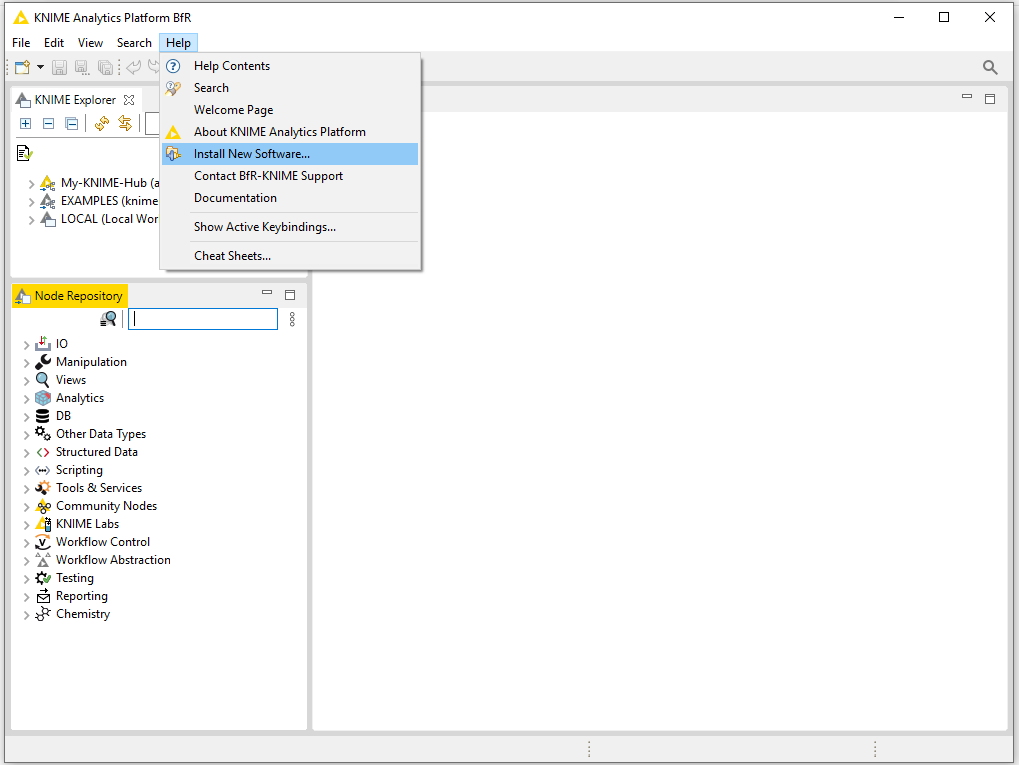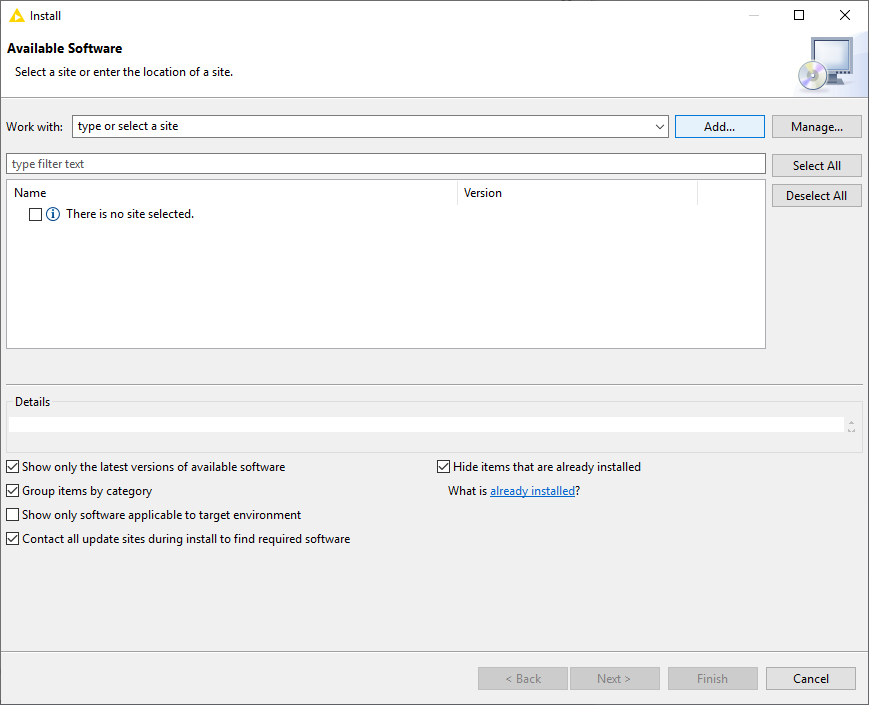 2
Type in a Name, like FSK-Lab 2.0. Copy the following link and paste it to Location: https://gitlab.bfr.berlin/silebat/repositories/raw/4.5/fsklab/
Press Add.

3
Hover over the triangle to open the drop down menu. Here you can what is encompassed in the software bundle. Select "BfR FSK-Lab". 
FSK-Lab support the execution of models created in the R statistical computing language (https://www.r-project.org). For convenience some bundles with preconfigured R are included in the FSK-Lab update-site. You can pick either the 32 or 64 bit version depending of your operating system. If you already have R installed on your system and you prefer to use that version, do not check either of the options. The bundles are named:
R 3.4.4 for 64-bit Windows
R 3.4.4 for 32-bit Windows
Important: Using the packaged R bundle will create a new folder (".fsk") in the local user folder to save automatically installed R libraries.  In case this causes conflicts with your local R installation, remove the .fsk folder and make sure, there is no reference to it in the .Rprofile file (found in documents).
Click Next.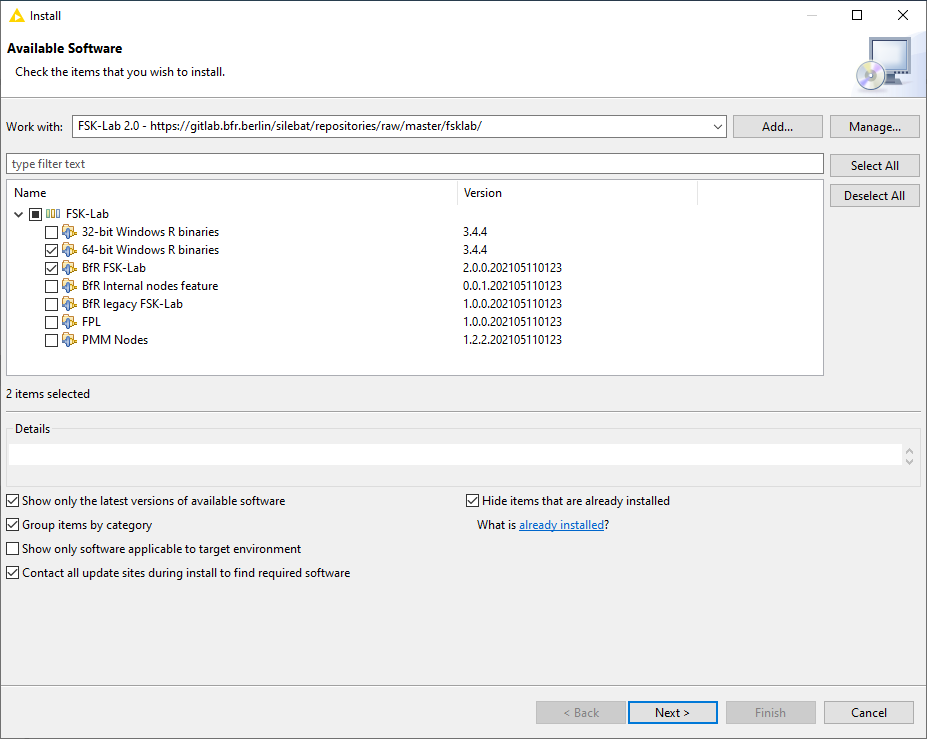 Note: Using an existing R installation in FSK-Lab
If you already have pre-configured R in your system and want to use this one, do not check this option. If you want to use your existing R installation together with FSK-Lab it is necessary to configure it, so it works well with FSK-Lab.
First three R packages need to be installed in your existing R installation. These can be easily installed in an R console with the command: install.packages(c('Rserve', 'miniCRAN','svglite')).
Second, The path to R needs to be set in the KNIME software. For that you go to "File -> Preferences -> KNIME -> FSK-Lab" and provide the path to the local R folder that holds a "bin" folder with the R.exe.
Note: In newer versions of FSK-Lab, there is also the option to set the name of a Conda (https://anaconda.org/) environment containing an r-base package. If you have Anaconda or Miniconda installed you may set up an R environment to be used by FSK-lab.
4
In the next window, you'll see a list of the tools to be downloaded. Click Next.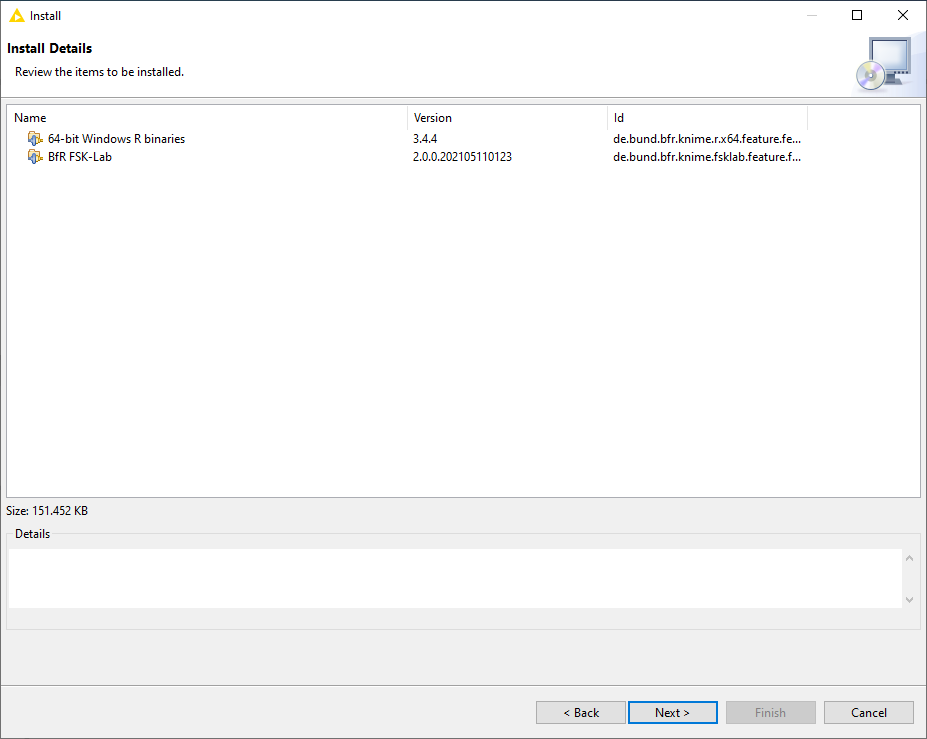 5
Read and accept the license agreements, then click Finish.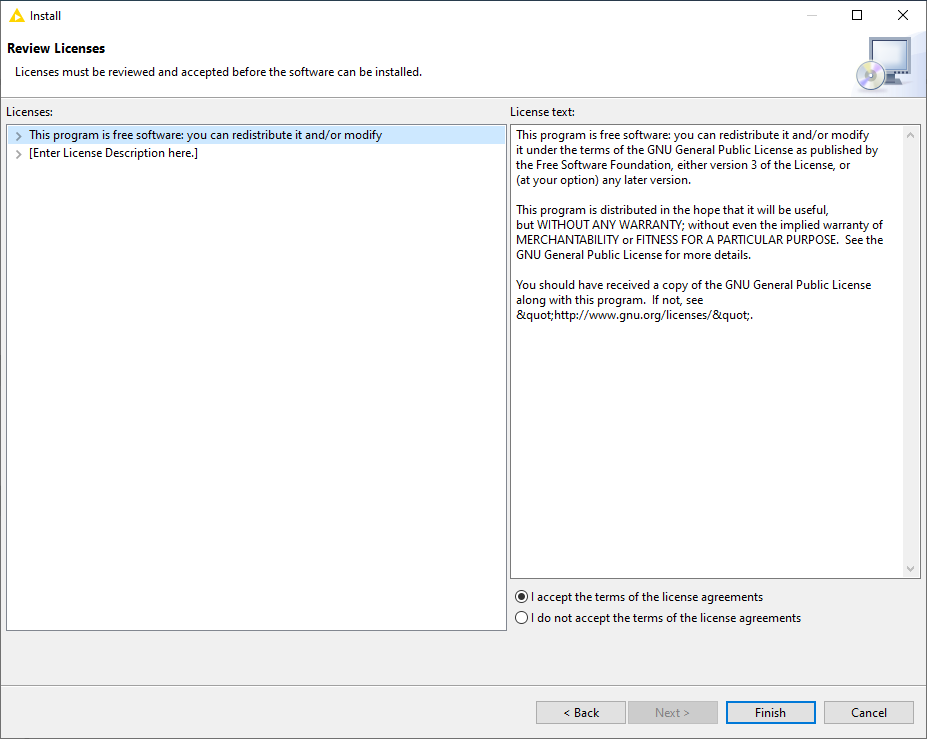 6
Now the installation process starts. If you get a security warning saying that the authenticity or validity of the software can't be established, click Install anyway.

7
Once the installation is finished, click Restart Now to apply the new software.

8
You find all selected FSK-Lab extensions in your KNIME node repository in the bottom-left corner.